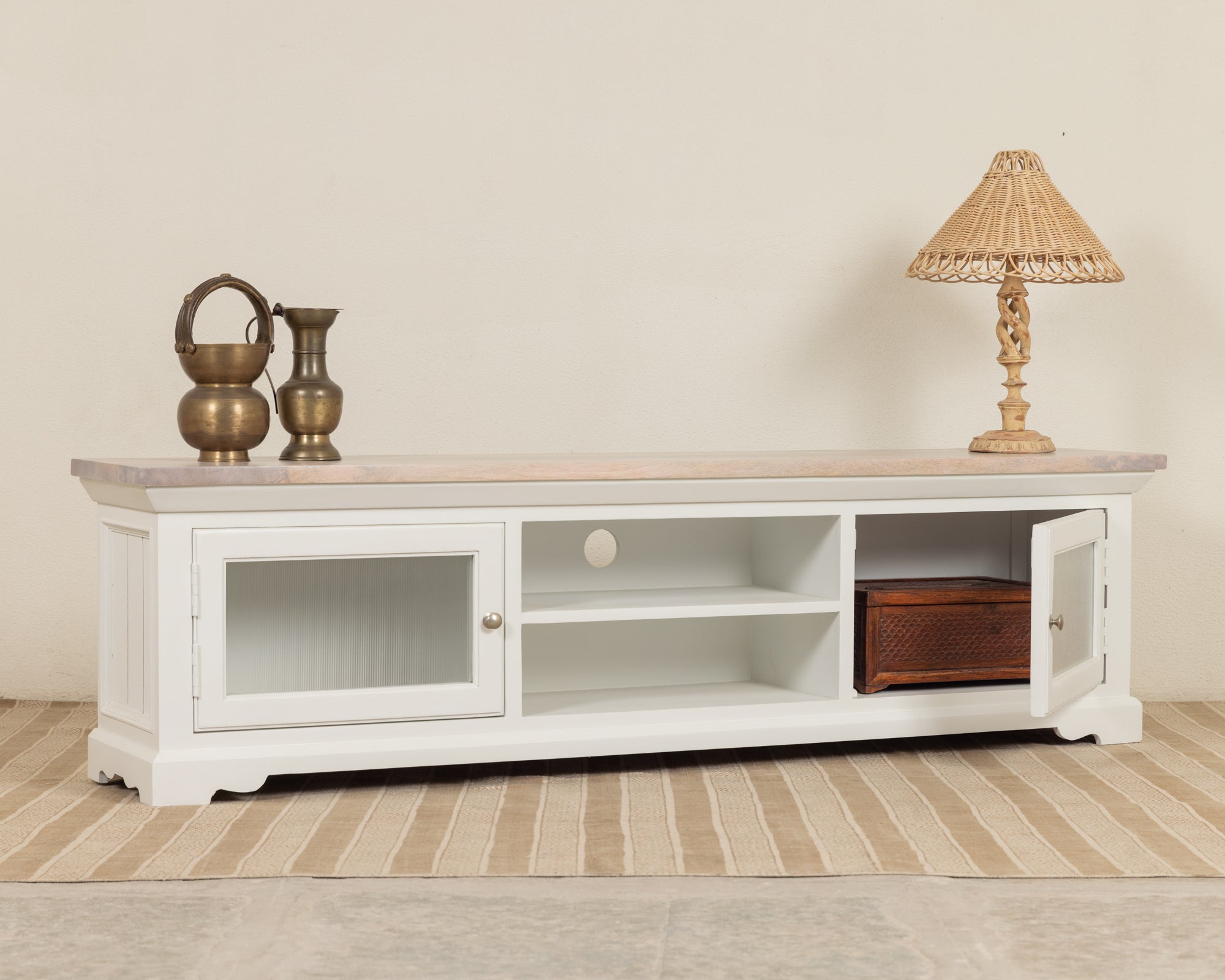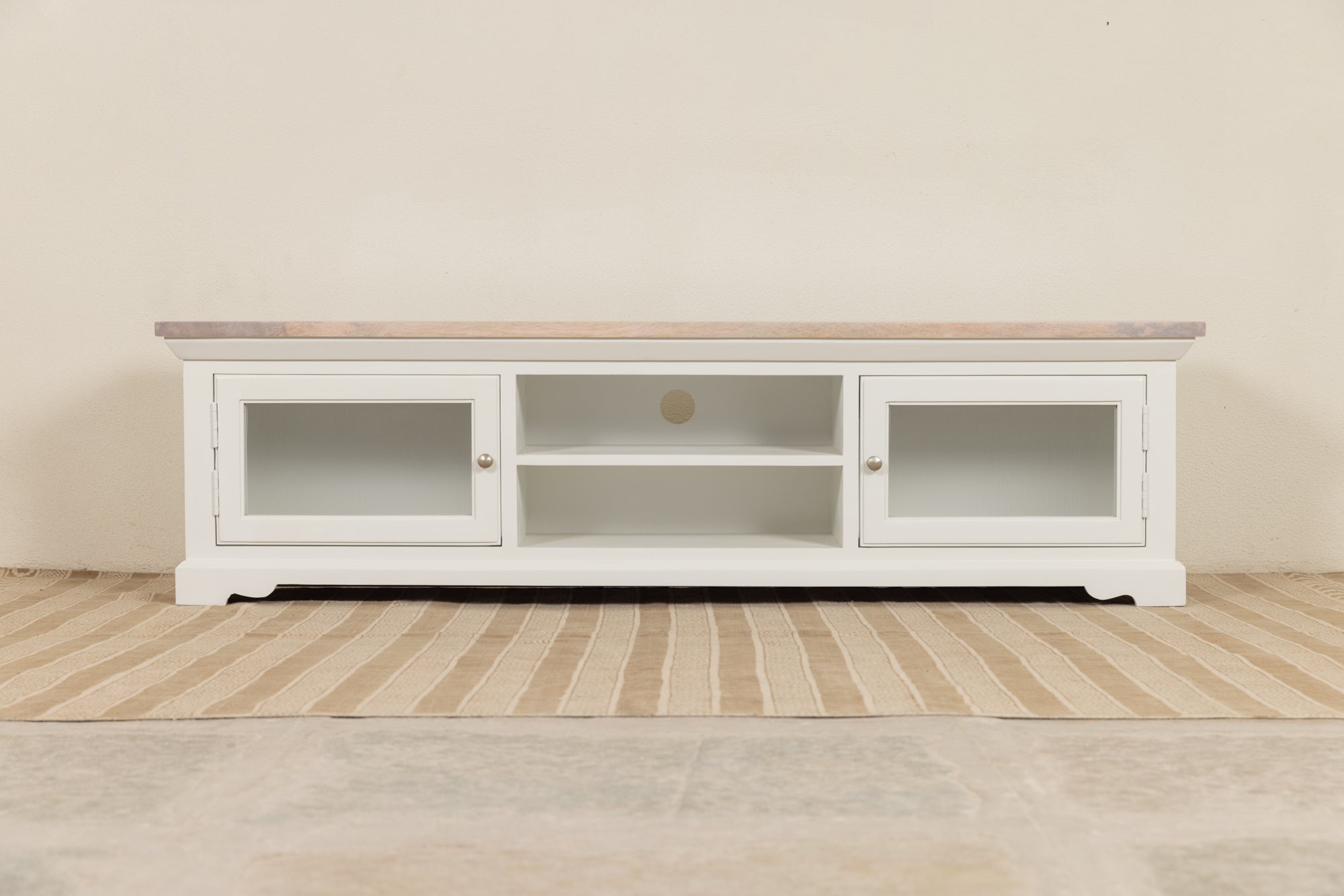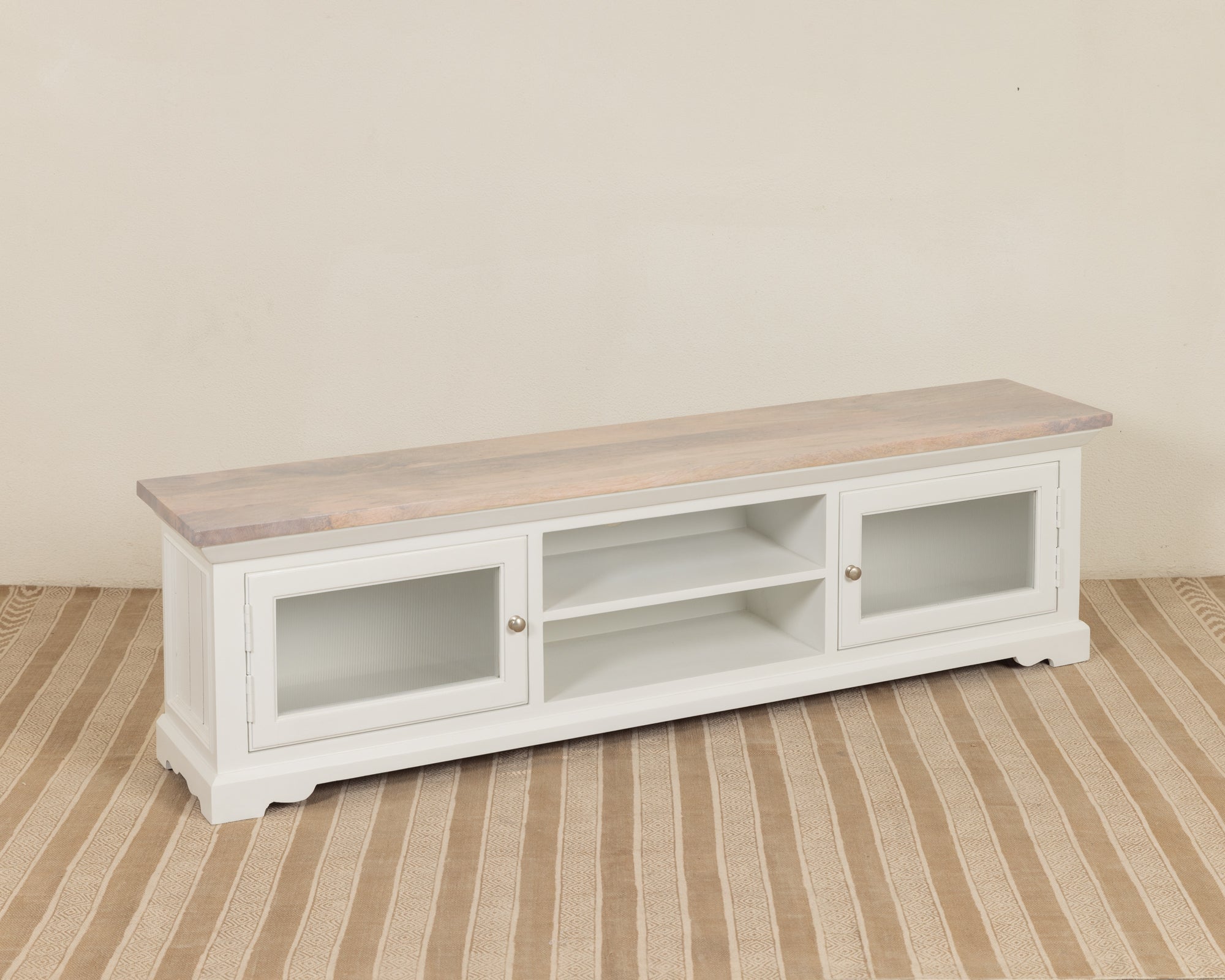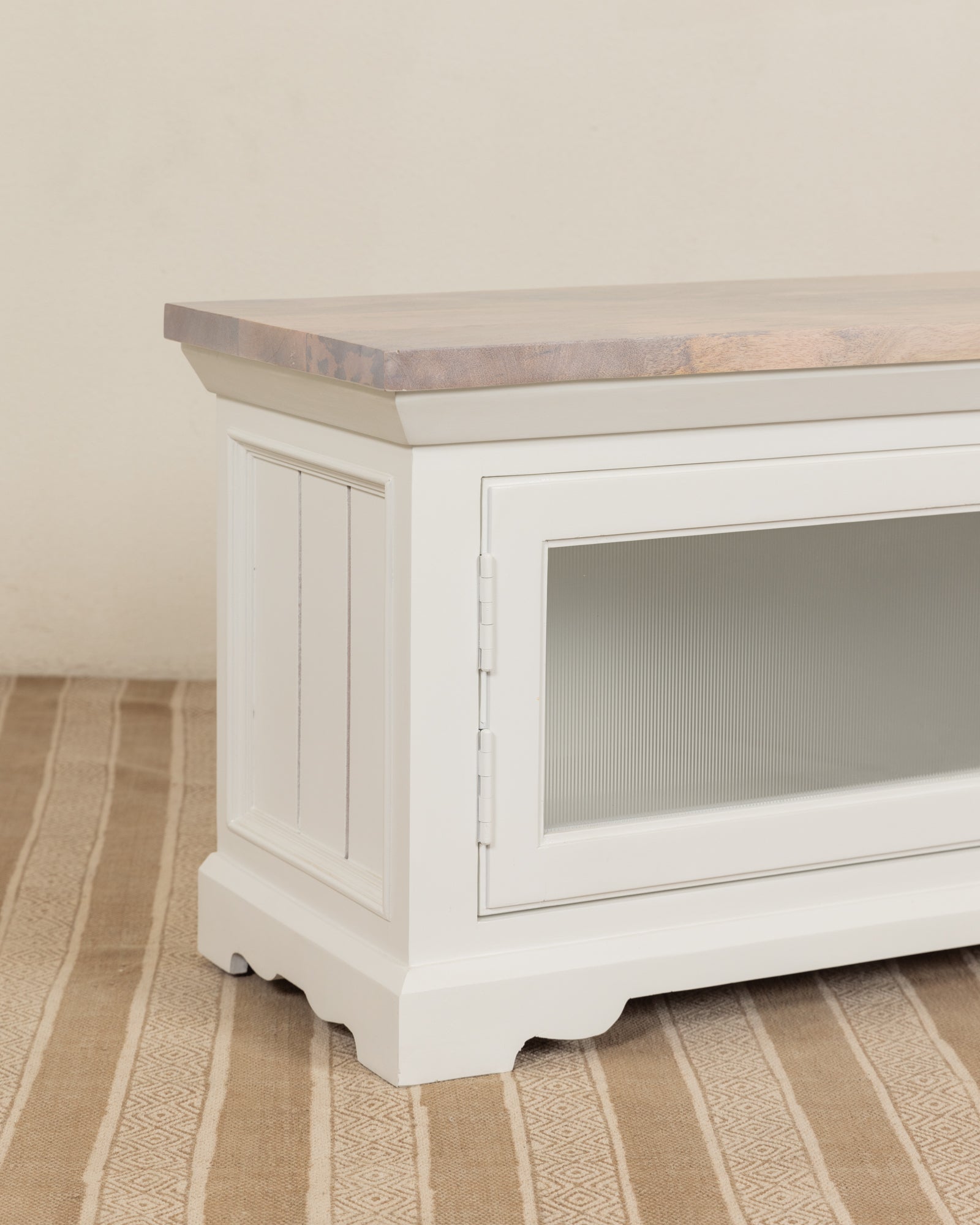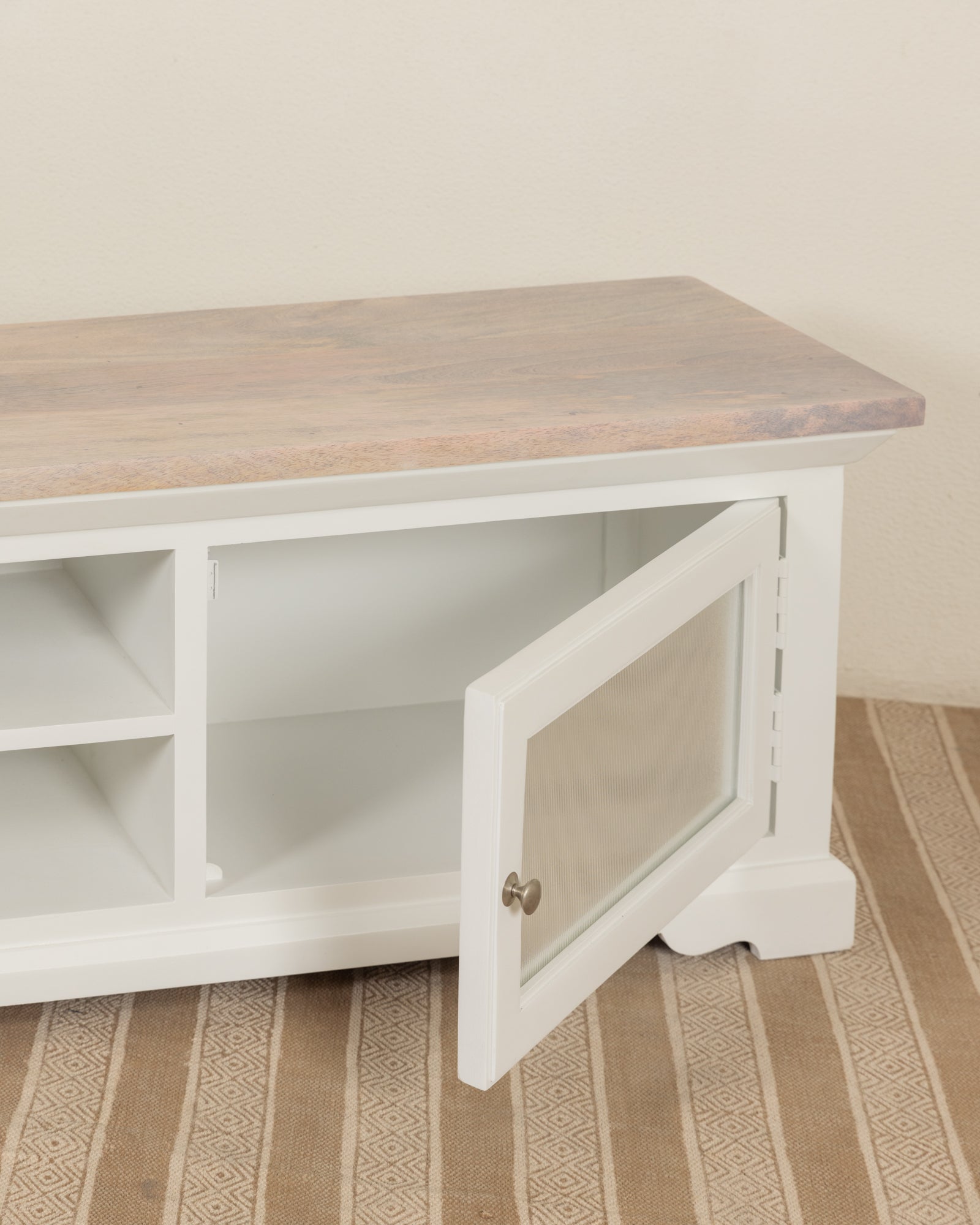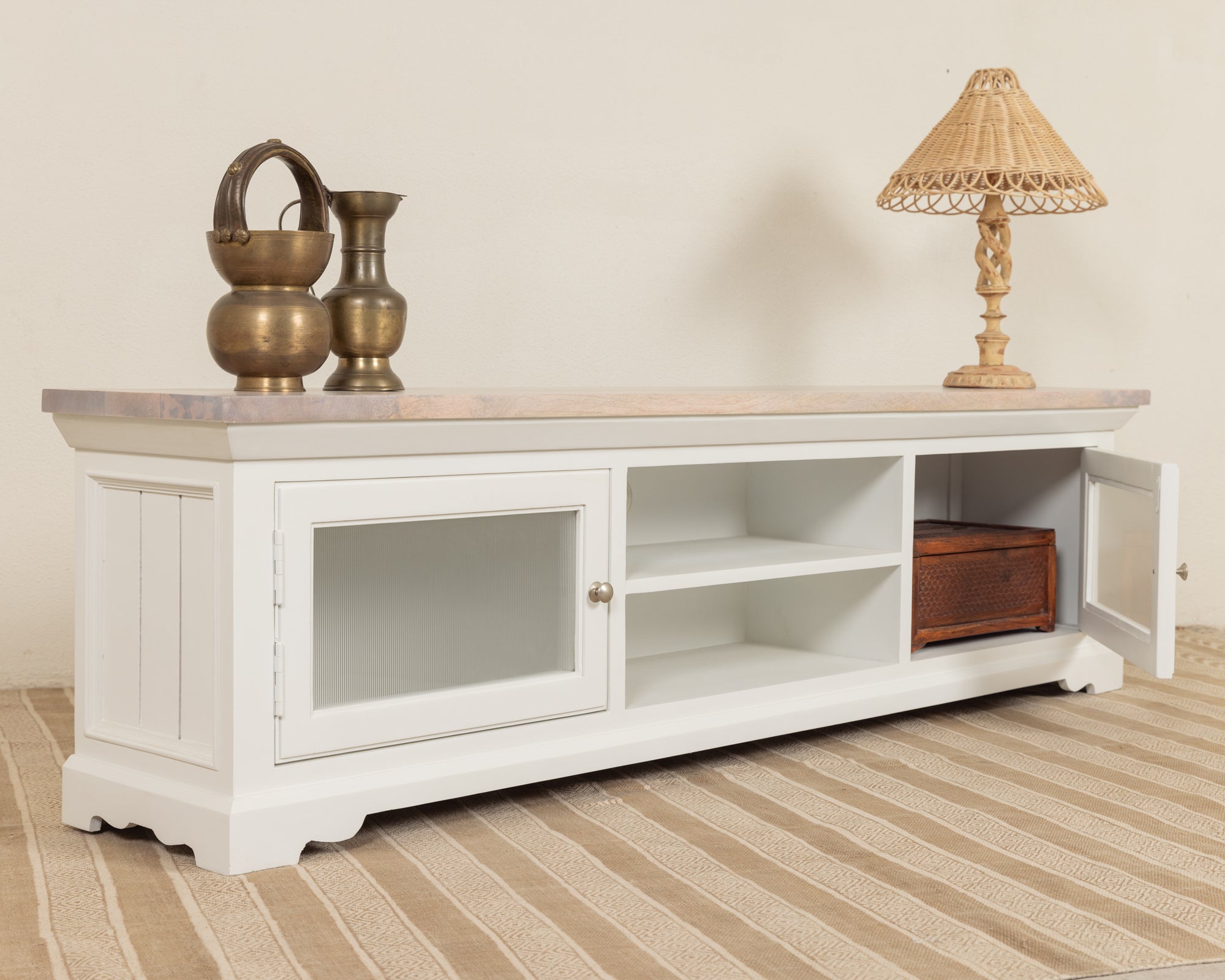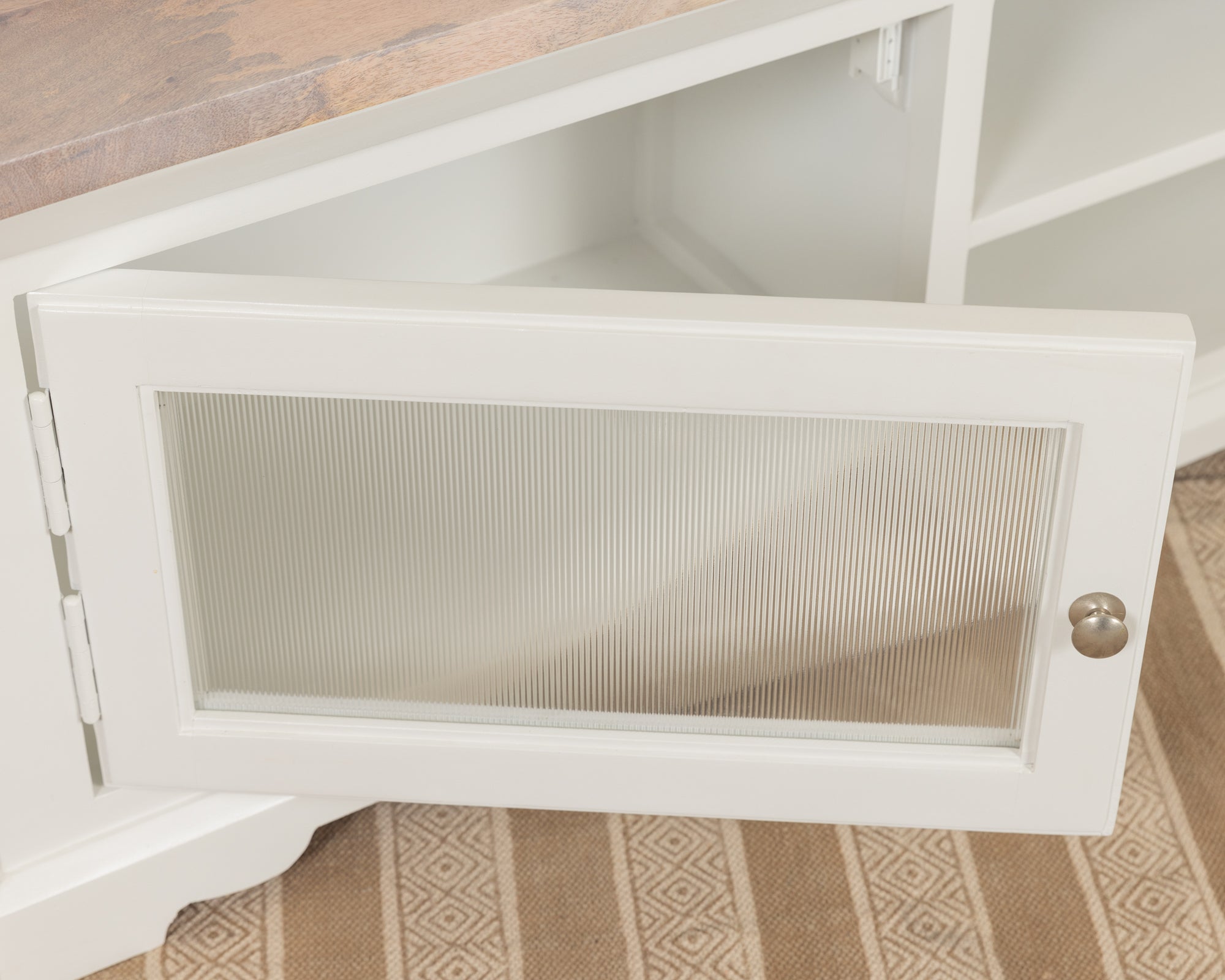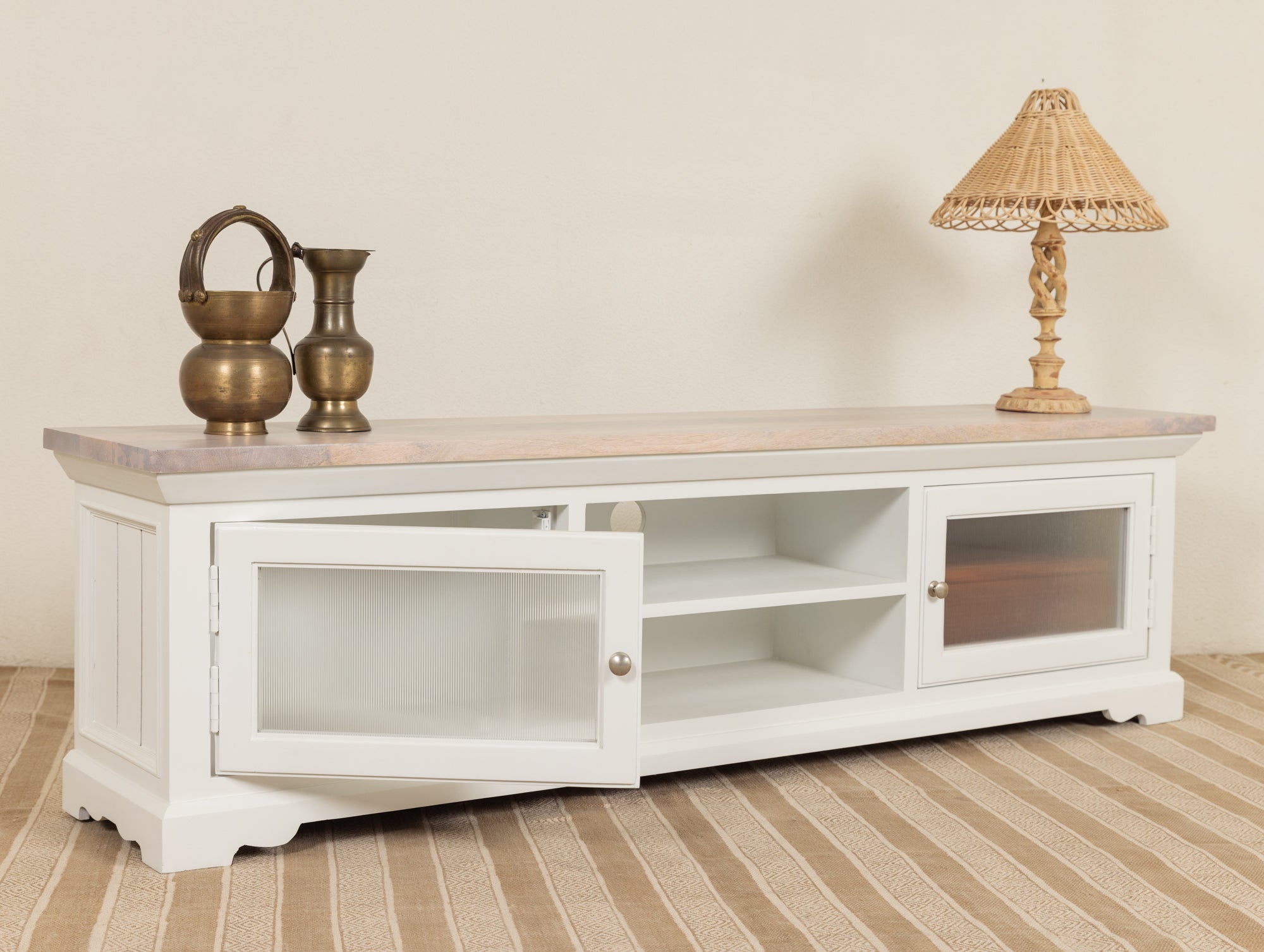 Description

Specification
The Tate TV Unit is the perfect example of a simplistic design that makes a statement. With its white wash top and white antique body, this piece is compact, and gives you ample space to store your things. Fluted glass doors add to its minimalistic charm.
Unit (U): 1

Size: 180 x 35 x 49 cm

Colour: White Antique, White Wash

Materials: Acacia Wood, Mango Wood

Packaging: This is a single piece, and comes in one package.
Item is in stock
Hurry, Only

0

Left!
Item is out of stock
Item is unavailable
---
Free shipping. All prices include 18% GST.
We require a period of 7-8 weeks to manufacture your orders. If a piece is in stock, we can ship it out in 1-3 weeks.
SIZE CHECK
All sizes are in Length x Depth x Height format.
Before ordering any piece of furniture, it is very important to check the spaces that a product is supposed to fit into.

For example, once you select a product and have noted down its size, make sure of the following:

Check the size of your house's entryway door, and whether the piece you order will go through it, either horizontally or vertically.
Check the size of your stairs (whether said product can be transported up a certain staircase).
Check the sizes of any elevators in your apartment building or in your home.
Check the sizes of your room doors.
Finally, check the size of the space you actually need to place the product in.

A lot of our furniture is knockdown, meaning that a particular product can be packed as separate pieces, which then have to be assembled on site. This makes it easier for you to carry that product from one place to another in your home.

Check our product descriptions for whether a furniture piece is knockdown or a single unit.

Kindly note that Savana Living will not be liable if the product/products ordered do not fit into your entryways or designated spaces; we have tried to ensure in the instructions above that every customer measures their spaces thoroughly before placing their orders.
CUSTOMISATIONS
Do you Customise?
We mostly customise our products in terms of their dimensions and finish. However, please feel free to write in to us if you require any other customisations. We have a form you can fill out. Wherever possible, we would be happy to make the changes for you.
Is there an additional charge for customisation?
The price for a customised product is usually a bit higher than that of a standard one, even in case the product size is being reduced, since the alteration increases our cost of production significantly.
Is there an additional charge for a change in the colour finish of a product?
Except in the case of a distressed finish, we do not charge an additional amount for a change in the colour of a product. 
SHIPPING
Product Details
This U is made in India, and marketed by Savana Living, Hotel Windsmoor Complex, Sector 2, Parwanoo, Himachal Pradesh - 173220. Made in January 2023. 
Despite every effort to provide accurate images of each product's colour and design, actual colours may vary slightly, due to different device screen settings, the lighting in the installation location, slight differences in product finishes over time and other factors. 
Manufacturing period
We require a period of 7-8 weeks or a maximum of two months to manufacture and dispatch orders. The shipping timeline is additional, and generally varies from 5-12 days, depending on the delivery location's distance from Jaipur (where the products are dispatched from). For any pieces that are in stock, we require a period of 2-3 weeks to dispatch the products. Customers will be updated on the order delivery time period once they confirm their order. If you would like to know how much time it will take for Savana Living to manufacture and send your products before you place the order, kindly write to us at savanaliving@gmail.com.
Shipping policy
We provide free shipping for all our products to most major cities in India. However, if your delivery location is a smaller town, kindly write to us at savanaliving@gmail.com. Please send us your delivery address and pincode so that we can go through the shipping details for you.

Once an order is ready to be dispatched, you will be notified via email. Consequently, a notification will also be sent when the order has been dispatched for your location. Our courier partner will get in touch with you when your order is out for delivery, and you can set a mutually agreeable time to receive the goods.
PRODUCT ASSEMBLY
Upon receipt of your goods, kindly ensure that any person unloading the furniture or opening the packages in your home is wearing gloves, or has clean hands. As we work with a third party shipping partner, Savana Living does not have teams in other cities who can unpack products and assemble them in your home. The unpacking and assembly is generally carried out on the customer's end. We recommend customers use the services of a local carpenter to do the assembly. We provide assembly tools and instructions, and the installation process is fairly easy to do. 
Individualistic details
Uniquely handmade
In a cookie-cutter world, standing out makes all the difference. Unlike a homogenised design, the art of making furniture by hand changes the way a product looks and feels. Each handmade product has its unique quirks and individualistic wood grains. Each Savana Living product is, therefore, the only one of its type. 
Workshop views
Hands that create